Why do so many Families
L
♥

VE the FSU Partners curriculum
---
The latest research made simple, concise, and beautiful.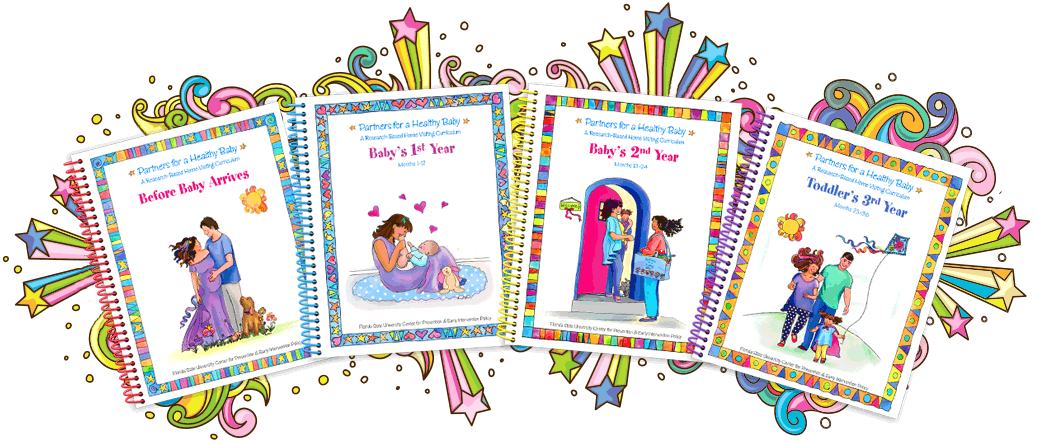 Everyone wants to have a healthy baby and be a good parent—but babies don't come with a user manual. FSU held focus groups with parents to ask what they needed. First, parents said they wanted guidance they could trust. With their time so limited, parents wanted this information in short, engaging, colorful magazine-style handouts. So that's what we did!
Using the latest research and clinical guidelines, our multidisciplinary faculty compiled the latest facts and most effective guidance to address the comprehensive issues facing expectant and new parents. We created simple, concise, easy to read, and attractive Parent Handouts that summarize critical topics during pregnancy and parenting.
The photos on the Parent Handouts reflect our families' wide diversity of cultures and ethnicities. Families LOVE the colorful magazine-style Parent Handouts! ---with almost 700 to choose from!
An evaluation conducted by the Florida Department of Health confirmed that families thought the handouts were useful and engaging. Some families shared their Parent Handouts with neighbors and other families. This trusted, research-based guidance helps families have a healthy birth outcome and support their child's many developmental needs in the critical First 1000 Days.