Using the Partners for a Healthy Baby Curriculum to Fidelity
In order to achieve program goals and help families meet their goals, you have to be knowledgeable about topics that impact those families. When you use the Partners curriculum to fidelity, you become more knowledgeable about these topics and can plan and conduct more effective home visits.
Using the Partners for a Healthy Baby curriculum to fidelity involves a
3 step process

:
Start by using the

Purpose Page

to select specific "purposes" or tasks to be covered on the visit. It is recommended that you begin with the Purpose Page that matches the mom's stage of pregnancy or the age of the child being visited.
Carefully read each

Detailed Information

page that explains the purpose or task you chose.
Review any

Handouts

recommended on the Detailed Information pages.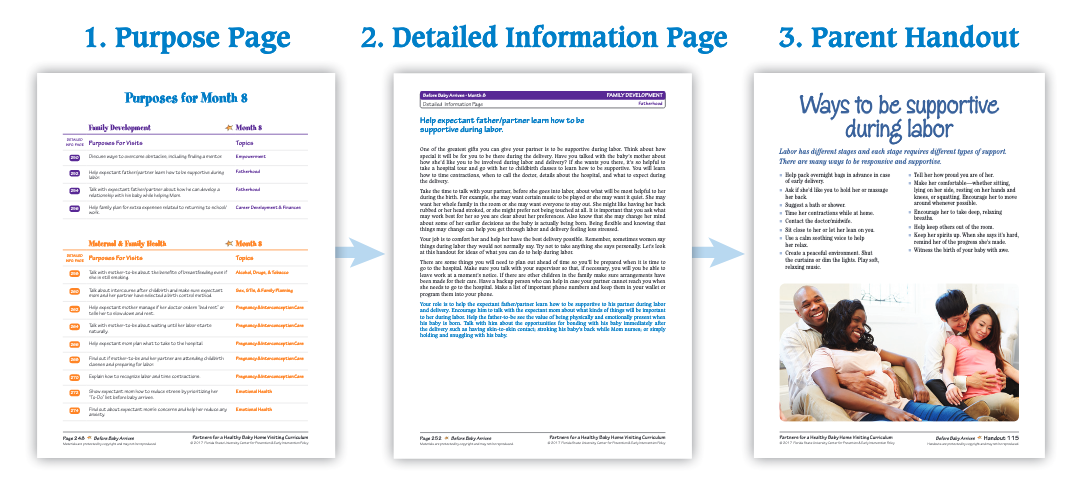 1. Purpose Pages
Each tabbed section begins with an outline that lists the specific Purposes for your visits that month. No attempt is made to break purposes into weekly segments—you can do that if you visit weekly. We recommend that you begin with purposes that are of particular concern or interest for the family and address your program goals. Omit only those purposes that you know do not apply to a specific family.
The four curriculum categories: Family Development, Maternal & Family Health, Preparing for Baby/Caring For Baby, Toddler's Development are listed on the right side of the Purpose Pages. Under each is a list of "Topics" related to that curriculum category.
2. Detailed Information About Each Purpose
The pages that follow each Purpose Page provide detailed information about how to address each Purpose. The information is presented in two different colors.
The words in black print (prompts) are intended to remind you of important points you need to make and help you come up with words and phrases to introduce and discuss them. As needed, reword the text to fit the family's circumstances, but be sure to convey the basic information that is outlined.
The words in blue offer additional instructions, call your attention to things you need to be aware of or look for, and suggest follow-up actions you may need to take.
Review these Detailed Information Pages before your visit and make brief notes on whatever planning form you use regarding the main points you plan to cover. Talk about the main points in your own words during the visit. If you can't discuss the material without reading prompts or the handout word‑for‑word, you need more training and study of the issue before you conduct a visit.
3. Parent Handouts
The purpose of the handouts is to help families:
Learn ways to enrich and support their baby's growth and development
Recognize early warning signs of health and developmental problems.
Manage the stress that pregnancy and caring for a new baby can bring.
Develop warm, nurturing relationships.
Make changes toward healthier lifestyles.
Think about their life goals and dreams and how to reach them.
Improve their self‑esteem.
The Parent Handouts summarize critical points on each topic and in some cases help visitors discuss issues that may otherwise be awkward to broach. Visitors should study the handouts and home visitor instructions on the Detailed Information Page carefully prior to visits so they can talk in their own words, rather than reading word-for-word.
We recommend that:
Programs purchase a set of Parent Handouts for each family.
Home visitors offer each Parent Handout to the family at an appropriate time and review it with them, allowing them to keep it for future reference.
Families use a three-ring notebook for their handouts. They may want to add family photographs and create additional scrapbook pages for baby's keepsakes.

Please note that Parent Handouts are protected by copyright and may not be reproduced.
---
Partners for a Healthy Baby Fidelity Checklist
The Partners for a Healthy Baby Fidelity Checklist is intended to be used by supervisors/coaches during reflective supervision with home visiting staff or as a self-reporting tool for Home Visitors to complete periodically. Home Visitors can also use it as a planning tool to consider the required steps for implementing the Partners curriculum to fidelity. Programs can choose how often to monitor fidelity, but we recommend that it be done at least quarterly and more often during the initial implementation phase. For items that need improvement, it is recommended that programs develop an Action Plan and revisit the fidelity checklist within a month of last check.

FSU Partners Fidelity Checklist