Help Reassure Young Children About Hurricane
Children may feel stress, anxiety, and fear after experiencing trauma such as a hurricane. They may have been scared by loud noises, fierce winds, and damaged houses and trees in their neighborhood. They sense the stress, loss and anxiety of others around them. They may be upset by the change in routine. They may be sad because they are separated from their family or friends.
Even little children, who can't yet talk, can feel stress and loss. Although they can't tell us what is bothering them, their feelings show in their faces and expressions.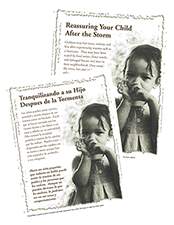 Use the following handout to help reassure your child after the Storm
(available in Spanish)