Resources for Tropical Storm Idalia
As Tropical Storm Idalia approaches, there are many things families, communities, and providers can do to prepare for the storm and its aftermath. The National Child Traumatic Stress Network has developed the following resources to help children, families, and communities navigate what they are seeing and hearing, acknowledge their feelings, and find ways to cope together:
Prepare:
Respond:
Psychological First Aid
The NCTSN also has resources for responders on
Psychological First Aid
(PFA;
En Español
). PFA is an early intervention to support children, adolescents, adults, and families impacted by these types of events. The
PFA Wallet Card
(
En Español
) provides a quick reminder of the core actions. PFA Handouts include:
For community and mental health providers who plan to continue working with affected communities long-term, review
Skills for Psychological Recovery
(SPR;
En Español
) and take the
SPR Online course
.
Mobile Apps
Available from the Center for the Study of Traumatic Stress at the Uniformed Services University:
Disaster Helpline
SAMHSA has a
Disaster Distress Helpline
– call or text 1-800-985-5990 (for Spanish, press "2") to be connected to a trained counselor 24/7/365.
Additional Resources
For those that are needing technical assistance or additional resources, please don't hesitate to contact Dr. Melissa Brymer at mbrymer@mednet.ucla.edu.
Help Reassure Young Children About Hurricane
Children may feel stress, anxiety, and fear after experiencing trauma such as a hurricane. They may have been scared by loud noises, fierce winds, and damaged houses and trees in their neighborhood. They sense the stress, loss and anxiety of others around them. They may be upset by the change in routine. They may be sad because they are separated from their family or friends.
Even little children, who can't yet talk, can feel stress and loss. Although they can't tell us what is bothering them, their feelings show in their faces and expressions.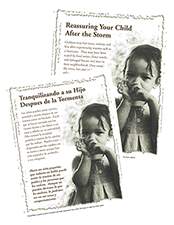 Use the following handout to help reassure your child after the Storm
(available in Spanish)